What's The Difference Between Open Bidding & Header Bidding?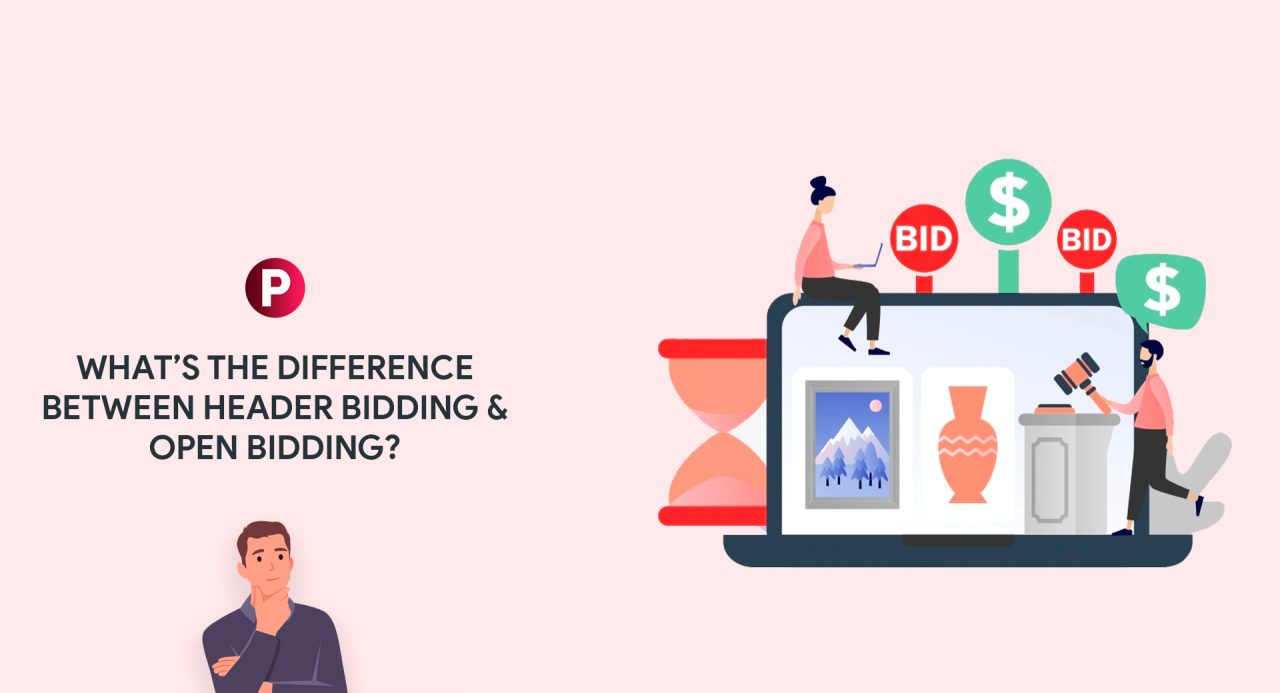 In the intricate landscape of digital advertising, the quest for optimal ad revenue strategy leads publishers to a critical crossroad: Open Bidding vs. Header Bidding. This exploration is pivotal for those seeking consistent ad bids and enhanced revenue streams. Let's dissect the nuances with the precision of a seasoned navigator.
Header Bidding Unveiled: A Symphony of Transparency and Efficiency
Commonly known as pre-bidding, header bidding is a sophisticated technique embraced by tech-savvy publishers. By embedding a line of JavaScript in the website header, publishers can orchestrate a simultaneous bidding process using either the browser or a third-party server. This method, hailed for its transparency and flexibility, automates programmatic ads, opening avenues for diverse revenue streams. The real-time, multi-partner bidding system offered by header bidding ensures swift and efficient monetization of web and app locations. It provides direct insights into inventory value, empowering publishers to adjust floor prices dynamically. With the promise of better inventory insights, higher CPM, and opportunities for improved processing speeds, header bidding stands as a beacon for publishers seeking enhanced monetization.
Advantages of Header Bidding:
Better Inventory Insights: Header bidding provides direct insights into the actual sale value of inventory, enabling dynamic adjustment of floor prices for increased sales.
Higher CPM (Cost per Mille): By securing premium ad placements, header bidding elevates CPM, reflecting the highest price bidders are willing to pay for ad impressions.
Processing Speed Optimization: While client-side bidding is effective, server-side header bidding reduces latency, enhancing user experience.
Possible Pitfalls of Header Bidding:
Risk of Duplicate Bidding: Simultaneous use of multiple Demand-Side Platforms (DSPs) may lead to competing bids, demanding careful strategy implementation.
Possible Discrepancies: Despite its design to counter disparity, header bidding is not immune to minor reporting errors caused by factors like premature page leaving or network issues.
Open Bidding: Google's Strategic Evolution
Also known as Google's open bidding, this auction source enables multiple ad exchanges and supply-side platforms (SSPs) to compete alongside Google's Ad Exchange platform (ADX). In contrast to header bidding, open bidding operates exclusively as a server-side option, with Google managing most operations on its servers. Initially conceived as a response to the success of header bidding, open bidding has evolved into a less demanding alternative for publishers, handling auctions offsite through Google.
Advantages of Open Bidding:
Off-Server Auction Host: Google's control over open bidding operations alleviates stress on publishers, offering robust automation.
Simplified Payment Options: Open bidding streamlines payment management by providing a unified method, reducing the complexity of managing multiple payment methods.
Reduced Page Latency: Similar to server-side header bidding, open bidding minimizes latency, ensuring efficient bid management on third-party servers.
Possible Pitfalls of Open Bidding:
Higher Barrier of Entry: Setting up open bidding requires a full ADX account and a premium subscription to Google Ad Manager 360, presenting a higher entry threshold compared to header bidding.
Difficulty with Cookie Matching: Open bidding demands additional steps for effective cookie syncing, potentially posing challenges for some publishers.
In the perennial debate between open bidding and header bidding, preferences hinge on individual needs and priorities. The choice between them shapes the future of programmatic auctioning, with each presenting its unique set of advantages and challenges.
Charting Your Course: Open Bidding vs. Header Bidding
Whether you lean towards the transparency of header bidding or the streamlined approach of open bidding, the array of auction types promises efficient revenue generation for your publishing site. At ProfitSence, we offer bespoke solutions to elevate your monetization strategy. Our Google ADX experts are ready to guide you through the nuances of open bidding and header bidding, ensuring your journey leads to new heights of revenue gains. Embark on this exploration today and redefine your path to digital prosperity. For further insights, explore Google AdX and demystify the role of a Google Adx Partner with our team of experts.
Ready to chart your course? Connect with us for a transformative ad monetization experience.
If you need more help we are always ready to help you. Just contact us!